UKCA Marking Medical Devices
I3CGLOBAL offers medical device manufacturers and exporters all over the world an incredibly cost-effective UKCA Marking medical devices regulatory solution. Our consultants and medical writers have extensive expertise assisting manufacturers in making a smooth transition from CE to UKCA marking or fresh applications.
What is UKCA Marking?
The UKCA Marking is the UK equivalent of the EU CE Marking. This Mark is a valid indicator that a medical device conforms to relevant UK Regulations. The United kingdom conformity assessment marking is mandatory for medical devices sold in Great Britain (England, Wales, and Scotland) post Brexit.
United Kingdom's Medicines and Health Care products Regulatory Agency (MHRA) On September 18 2019, published new guidelines to regulate medical devices after Brexit. The UKCA will not be recognized in the EU, EEA, or Northern Ireland, and products still require a CE marking for sale in these markets. The manufacturer or their authorized representative will be responsible for affixing the UKCA marking to the product, the same principle as for CE marking but for the UK market.
A third-party evaluation procedure by a UK Approved Body is required for UKCA Marking of medical devices sold in the UK. This procedure is comparable to that used in the European Union for CE Marking, in which the EU authorized Notified Body assesses the compliance. The MHRA has stated that UKCA Marking will be based on the IVD, MDD and AIMD Directives until June 30, 2023, rather than the EU MDR 745/2017 and EU IVDR 746/2017.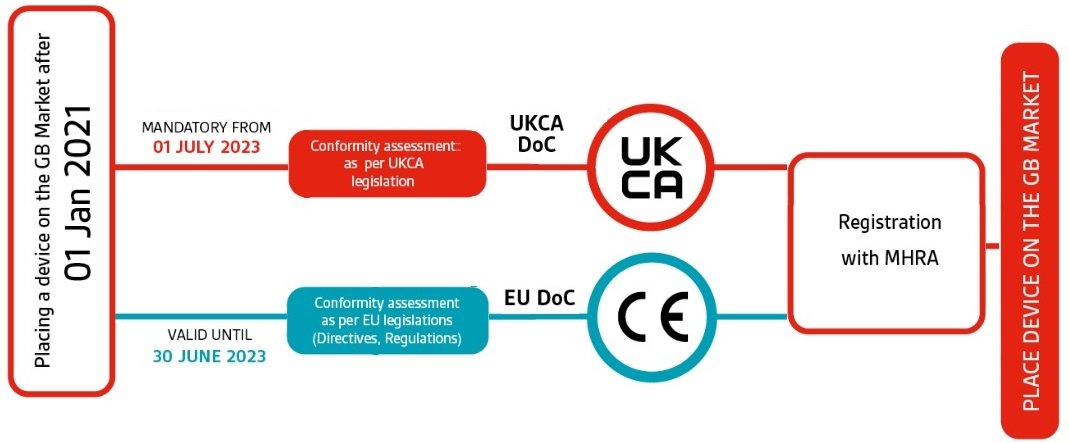 UKCA Marking and MHRA Registration Timeline
To allow free trade without an interception, pre-existing CE Marked devices are allowed till 31st December 2021. However, new products placed on the UK market for the first time after 1st January 2021 should carry a valid UKCA Mark.
The difference between UKCA and CE marking is administrative. It reflects that UKCA requires information in English, and UK Approved Bodies are authorized to issue UKCA mark certificates compared to Notified Bodies earlier. The product scope, technical requirements (essential requirements, standards), and conformity assessment procedures will all be alike.
Devices with a CE Mark can still be sold in the UK until June 30, 2023, but from July 1, all medical devices and in vitro diagnostics will require a UKCA Mark to market in United Kingdom. Placing goods on Northern Ireland: Manufacturers in the United Kingdom will need to designate a European Authorized Representative to place goods in the EU or Northern Ireland. CE Marking will be needed in Northern Ireland, and EU MDR and EU IVDR  applicable.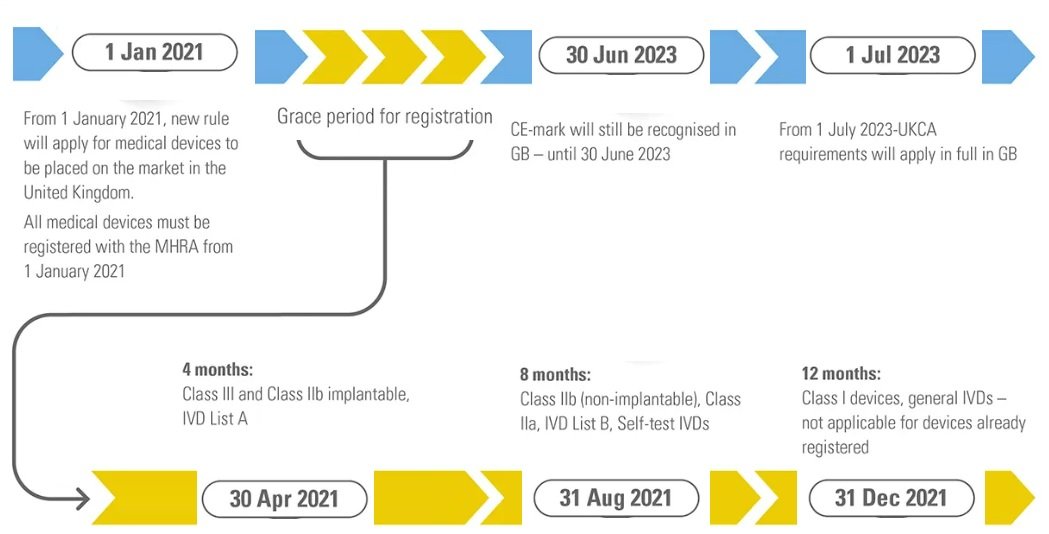 UKCA Mark Consultants
You cannot call anyone a master at medical device technical file preparation. A group of professionals experienced in EU Medical Device CE Marking covering core technical areas such as risk analysis, validations, design, shelf-life, usability, biological evaluation, safety, chemical characteristics, and clinical evaluation is called experts and such a group of experts makes us a team called I3CGLOBAL. You can directly contact us for technical file preparation.
Confirmation device models and scope of UKCA Marking
Identification of Medical and Invitro device risk class
Identification and finalization of test standards and device specific standards
Identification of assessment route of CE Marking
Systematically organize and arrange Technical Documentation / Files
Coordination with CB during review
Clinical Evaluation Report documentation covering PMS, PMCF & PSUR
Risk Analysis
Medical Device Quality Management System Implementation
UDI support
GMDN confirmation
UKCA Technical File
Members of the QA and Regulatory teams frequently struggle to discover the requisite number of medical device technical files for devices slated for UKCA Marking. The correct segmentation of technical files based on intended usage, application, and GMDN Code is critical for the file's quick processing.
It is advised to remember that medical device technical file or documentation is all about your device to establish safety and performance. It means you cannot combine products with the different intended use, or different class, or different construction material, or even different design.
Device Intended use and Indication of use
Site of application
Design change or major constructional changes
State of the art
Addition of multiple directives/ regulation
Evaluation of accessories, components and software/firmware
UK Conformity Assessment Bodies
The UK Notified Body accreditations will be revoked on December 31, 2020, and their CE marking will no longer be acceptable for placing medical devices and in vitro diagnostic equipment on the UK market. After December 31, 2020, UK based Notified Bodies will automatically become UK Conformity Assessment  Bodies, and their CE Certificates will no longer be valid.
The common question raised by EU manufacturers is whether the CE Mark Certificate issued by an EU Notified Body will be accepted by a UKCA Approved Body and utilized to produce a UKCA Certification for the same medical device. The response is that if EU Notified Bodies are willing to share information with UKABs when the certificate holder asks it, UKABs will be able to provide UKCA Certification without having to repeat the entire certification process. Cooperation between EUNB and UKAB is vital; thus, we assess the possibilities on an individual basis and guide manufactures accordingly.
It's important to remember that conformity assessment entails an audit of the manufacturer's quality management system as well as a review of technical documentation related to the products to be CE Marked for specific criteria; as a result, if your EU notified body isn't cooperating with a UKAB, additional on-site audits and technical documentation reviews will be required and manufactures has to pay a hefty fee for the process.
UKCA Conformity Assessment Steps
Identify the directives and standards that apply to you.
double-check the prerequisites
If relevant, conduct pre-clinical, safety, and performance investigations
Prepare a technical file and a compliance statement
The technical material should be submitted to the Conformity Assessment Body (UK CAB)
The onsite inspection was followed by a review of the technical files.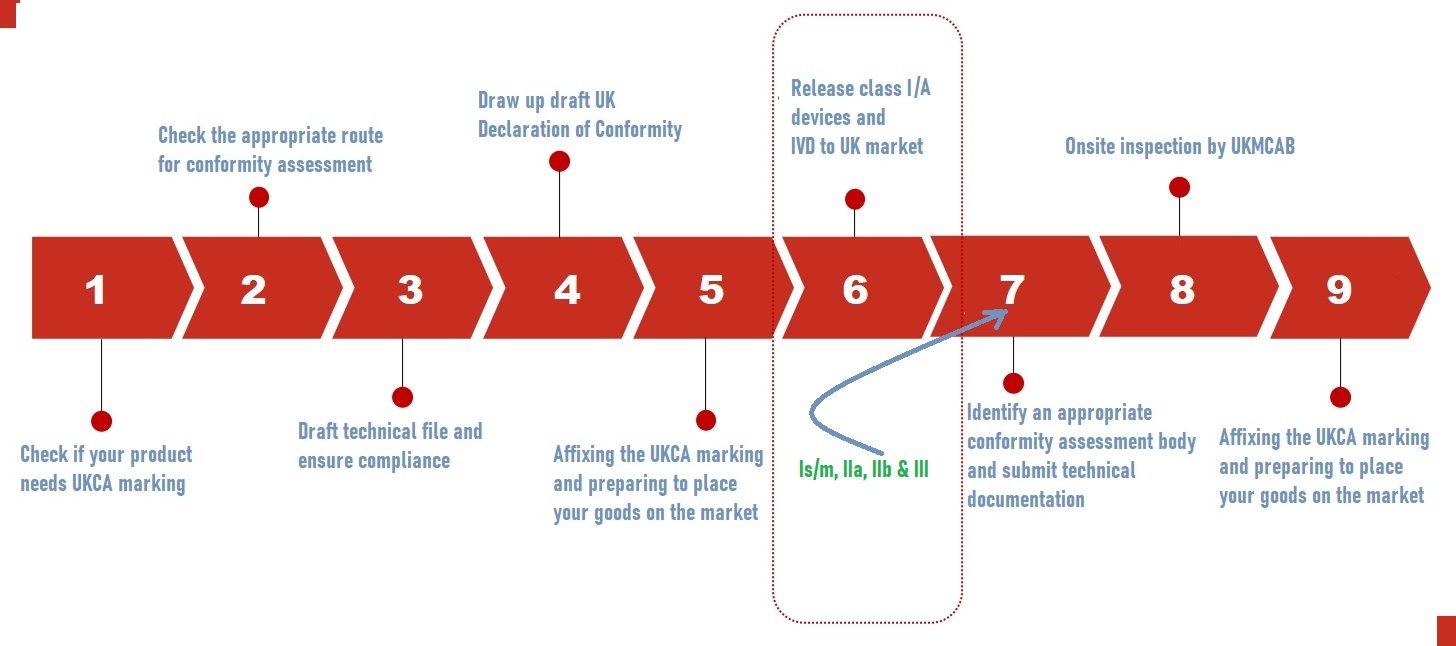 The UK Responsible Person for Medical Devices and IVD
An excellent UKRP walks you through the medical and IVD rules, covering all device classes and types, aids in the event of further comments from UK MHRA authorities, and communicates effectively and in-depth.
All of this necessitates exceptional regulatory, technological, and scientific abilities, as well as the necessary manpower. The I3CGLOBAL team has the necessary experience and credentials to serve as the perfect UK Responsible Person. It is not a good idea to appoint a your UK Importer as the UK Responsible Person to segregate your business and regulatory interests in the United Kingdom.
Medical Device and Invitro Diagnostics MHRA Registration
All medical devices and in vitro diagnostic medical devices must be registered with the MHRA before being placed on the UK market from January 1, 2021. The registration of medical devices, on the other hand, is staggered according to the risk class of the devices and the GMDN Code's