21 CFR 111, (Good Manufacturing Practice)
21 CFR 111 regulation detailed about Good Manufacturing Practice (cGMP) in Manufacturing, Packaging, Labeling, or Holding Operations for Dietary Supplements.  We are the US FDA Consultants for supporting Food Supplements manufacturers to implement FDA 21 CFR 111.
21 CFR 111 GMP is for those involved in manufacturing, packing, or holding human food supplements. The regulation must be followed by all domestic and foreign companies involved in the manufacturing, testing, packaging, labeling, warehousing of dietary supplements, including those involved with testing, quality control, and dietary supplement distribution in the U.S.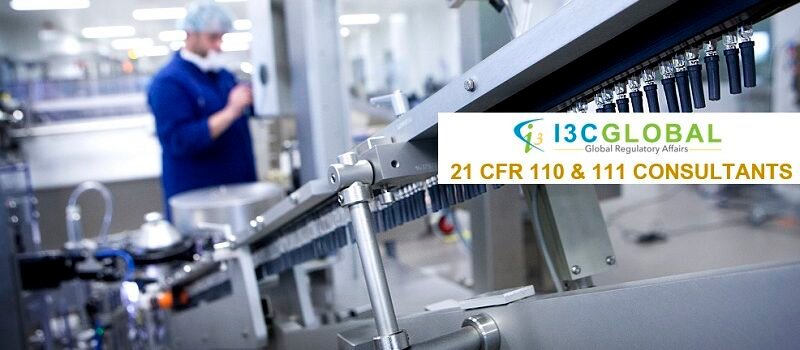 21 CFR 110
Current GMP is for those involved in manufacturing, packing or holding human food.
Why I3CGLOBAL should be preferred for FDA Pre-Inspection Support?
Generally, the FDA intimate the owner/operator of the registered facility about the inspection at least 2 months in advance.  Followed by the intimation, manufacturers/regulatory team will be in a hurry to make everything to be aligned with 21 CFR 111 requirements.
Documentation review and guidance
Facility Inspection and Guidance
Environmental Controls
Quality Control & Quality Assurance compliance
Batch Tractability & Recall
Specifications
CFR Fees
Our consultants are located in Germany, India & the USA.
CFR Implementation start @ $4500. ( Fees depends on the type of products, shop-floor area, number of employees etc.
Pre-Inspection $450 / man-day + Travelling and Accommodation.
Post Inspection service based on number of Observation. The fees for closing per observation /483 is $1000
Write to us
enquiry@i3cglobal.com
Frequently Asked Questions
What is the expected time required to complete cGMP as per 21 CFR Part 111?
21 CFR will generally 3-4 months but there are various factors which decides the time line, few are the following below:

Type of products manufactured
Number of products manufactured in the same facility
Shop floor area
Technical Skill and understanding capabilities of employees
Equipment's and utensils used
Air handling system
Shop-floor layout
Disposal of waste etc.
Is there any need of manual and procedures?
Yes, The organization should maintain the following important documents:

Quality Manual
Mandatory Procedures
Standard Operating Procedures
Validation Protocols and records
Batch Manufacturing Records
Quality Plans
Test Reports etc..