510k Submission
If you're new to the medical device 510k submission process, you're in the right place! The various steps involved in the process and types of submissions are set out here.
Careful planning, strategic decisions, and expertise of our consultants will ensure the early acceptance of the 510k file without RTA or AI and the successful clearance of the 510k submission.
All applicants must submit a soft copy in CD and e-copy. All foreign manufacturers are requested to officially have US Agent for FDA correspondence. ( Note: The service of US Agent is different from US Agent service for Establishment Registration).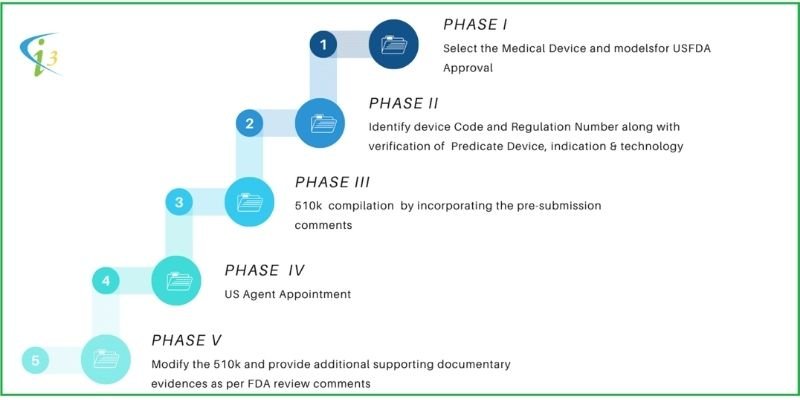 FDA 510k Pre-Submission (Q-Submission)
Pre-Submission or Q-Submission allows the manufacturer/applicant to request formal feedback on 510k files specific to (a) Test Protocols, (b) Substantial Equivalence, (c) Missing Section, etc.
Pre-Submission or Q-Submission allows the manufacturer/applicant to request formal feedback on the 510k files of your medical device, specifically on (a) test protocols (b) substantial equivalence, (c) missing section, etc. before you make an FDA review payment and submit a 510k application.
Benefits of 510k Pre Submission
Better clarity on subject device requirements
Improved quality of final 510k file,
Enhanced transparency of the review process,
Smooth and clear review comments,
Potentially shorter total review times,
No fee
Know what to be included in the 510k file!!
Given below are the basic contents of the 510k file which has to be followed in the 510k submission process. The device-specific documents and changes describing documents with the evidence can also be submitted in the Special 510k.
FDA reviewers may scrutinize your 510k submission multiple times until all the supporting evidence submitted comply. Nothing works more effectively when weighed against an experienced consulting company for the timely completion and submission of the FDA 510k
Understand the stages
PHASE I

Stages

Activity

Responsibility

Timeline

1

Select the Medical Device and models
for USFDA approval

CLIENT

20 Days

2

Identify Predicate Device with same
indication and technology

CLIENT + I 3 C

3

If NOT substantially equivalent, follow PMA route or if substantially equivalent, follow 510k route

CLIENT + I 3 C

4

Appoint I3CGLOBAL as Technical Consultants
and US Agent for clearance

CLIENT

PHASE II

5

Identify Device Code and Regulation Number along with verification of  Predicate Device, indication & technology

I 3 C

90 Days

6

Identify the device Class and guidance document

I 3 C

7

Biological evaluation and test requirement identification in-line with the predicate device

I 3 C

8

Samples send to Laboratory

CLIENT

9

Evaluation of equivalent device compilation

I 3 C

10

Drafting of 510k file in- line with available FDA guidance document.

I 3 C

11

Review of Risk analysis, Equivalent device data, Biocompatibility Test/Safety  test protocols

CLIENT + I 3 C

12

Review of Labels, User Manual/IFU, Shelf-life records/lifetime calculation, and pre-clinical study evidence

CLIENT + I 3 C

13

Pre-submission

CLIENT + I 3 C

PHASE III

14

Compilation  by incorporating the pre-submission comments

I 3 C

90 Days

15

Compilation  of Pre-clinical and Biocompatibility/Safety testing

I 3 C

16

Compilation and release the Final Draft

I 3 C

17

Review

I 3 C

PHASE  IV

18

US Agent Appointment

CLIENT

20 Days

19

Review payment

CLIENT

20

Submission in Hard copy and E-Copy

I 3 C

21

Receipt of acknowledgment

CLIENT

22

Wait for the review comments

CLIENT

90 Days

PHASE V

23

Modify the 510k and provide additional supporting documentary evidence as per FDA review comments

CLIENT + I 3 C

60 Days

24

Re-submission

I 3 C

10 Days

25

Wait for the review comments or 510k clearance letter

CLIENT

90 Days
Generally, the FDA 510k process (file preparation and submission) and device testing take up almost 4-5 months. Post submission, the FDA generally takes up to 3-10 months including the closing of the review queries.
510k Submission and Duration