Please log into NANDO website to know the latest list of IVDR qualified Notified Bodies
Please log into NANDO website to know the latest list of MDR qualified Notified Bodies
Check contents of IVDR Technical Documentation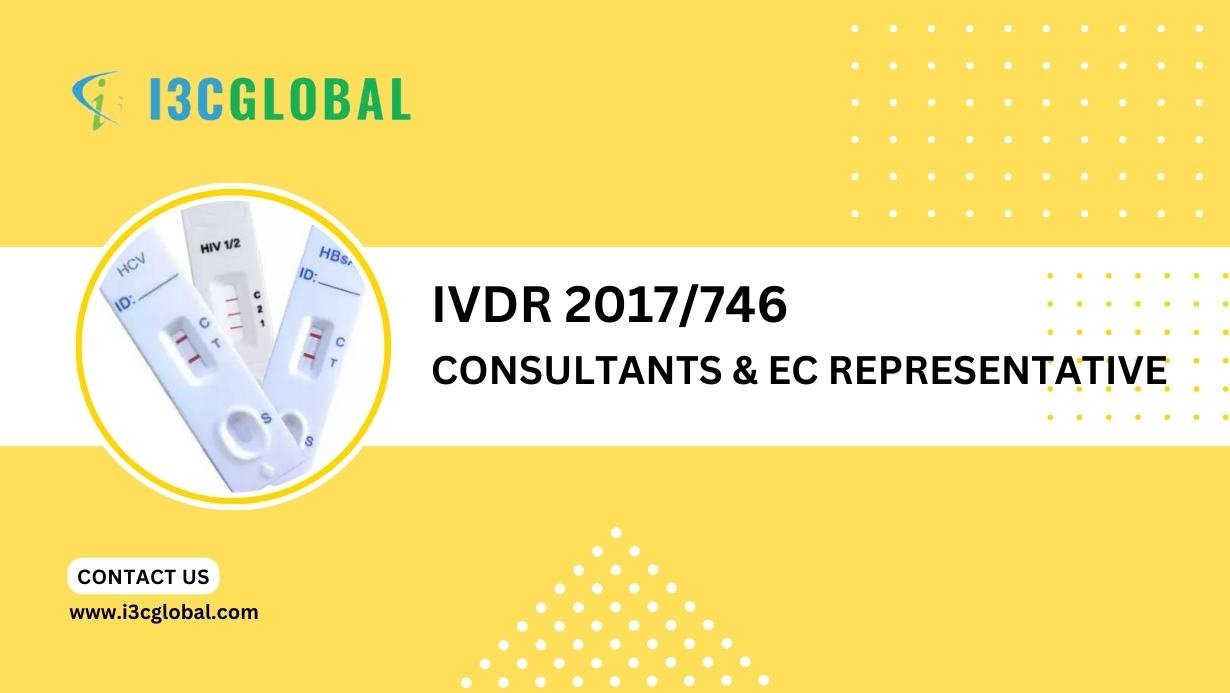 The GSPRs: The Heart of the EU IVDR 2017/746
GSPR IVDR same as any medical device must meet two important parameters, Safety, and Performance before considered to be acceptable for use. It means that the device should achieve its intended purpose as stated by the manufacturer (performance) with an acceptable level of side effects (safety). Regulators from different parts of the world will investigate these parameters for any device during the approval process.

Importance of IVDR GSPR
On 5th April 2017, the European Commission published the new EU MDR and EU IVDR, by repealing the Medical Devices Directive 93/42/EEC, Active Implantable Medical Devices Directive 90/385/EEC and In Vitro Diagnostic Medical Devices Directive 98/79/EC.
These new regulations include 23 general safety and performance requirements for medical devices, compared to the 13 essential requirements in MDD and 20 general safety and performance requirements for in vitro diagnostic devices, compared to the 13 essential requirements in IVDD, in Annex I.
To ensure the safety and performance of devices, the manufacturer should demonstrate conformity with the general safety and performance requirements (GSPR), laid down in these regulations and other legal requirements related to quality and risk management.

Requirements of IVDR GSPR
As per Annex I, EU IVDR 2017/746, the following chapters mentioned as GSPR for IVDs,
Chapter 1 – General requirements
Chapter II – Requirements regarding design and manufacture
Chapter III – Requirements regarding the information supplied with the device
Chapter I - General Requirments.
The IVDR has 8 clauses for general requirements, compared with 5 clauses of IVDD.
Safety and Performance
Benefit-Risk ratio
Risk Management System
Risk Control Measures
Reducing risks related to use error
Effects on device's lifetime
Device Packaging
Risk mitigation measures during normal use
In this chapter, additional clauses added related to risk management compared to IVDD, such as the risk control measures during the design and manufacturing stages, risk mitigation measures for the foreseeable risks or any other undesirable effects.
Chapter II – Requirements Regarding Performance, Design and Manufacture:
The IVDR has 11 clauses for general requirements, compared with 8 clauses of IVDD.
Performance characteristics
Chemical, physical and biological properties
Infection and microbial contamination
Devices incorporating materials of biological origin
Construction of devices and interaction with their environment
Devices with a measuring function
Protection against radiation
Electronic programmable systems
Devices connected to or equipped with an energy source
Protection against mechanical and thermal risks
Protection against the risks posed by devices intended for self-testing or near-patient testing
In this chapter, specific clauses included for the device's performance characteristics regarding analytical and clinical performance, safety regarding microbial and other transmissible agents related to the materials of biological origin and devices that incorporate electronic programmable systems, including software, which requires information security, verification and validation.
Chapter III – Requirements Regarding Information Supplied with The Device
The clause for information supplied with the device included in the Design and Manufacturing requirements of IVDD, however in the IVDR it is mentioned as single clause in a separate chapter.
Label and instructions for use
General requirements regarding the information supplied by the manufacturer
Information on the label
Information on the packaging which maintains the sterile condition of a device ('sterile packaging')
Information in the instructions for use
This chapter is separately mentioned in IVDR by mentioning specific requirements that are to be considered about the information supplied to the users with the device.

IVDR GSPR and Technical Documentation
As per Annex II, EU IVDR 2017/746, the GSPR is considered as a part of technical documentation and it should have the cross references to technical documentation, about the objective evidences that demonstrate the conformity of a device to the IVDR.
The demonstration of conformity includes the following against each requirement in Annex I,
Justification, validation and verification of the solutions adopted
Explanations, if it is not applied to device
methods used to demonstrate conformity
The harmonized standards, Common Specifications or other solutions applied
The quality management system should provide the evidence to support relevant GSPR clauses,
Verification and validation reports.
Buy IVDR GSPR Checklist
*The IVDR GSPR checklist Template was prepared exclusively on the basis of our expertise and skills by our technical specialists. If Notified Bodies or other technical specialists in this sector identify any errors in their work, no objections will be heard. All rights are reserved by I3CGlobal.
GSPR IVDR Checklist : 300 USD

Template ID : IVDR-GSPR-01
It is important to note, the EU IVDR classified the in vitro diagnostic devices into four classes, Class A, Class B, Class C and Class D, by considering the intended purpose of the devices and their inherent risks and abandons the classification as per Annex II of IVDD. As per this, most of the devices that are presently self-certified IVDs' need to be reviewed by notified bodies as per the EU IVDR, based on their risk classification, to obtain the CE Marking.