Substantial Equivalence is the demonstration that a new device, compared to a predicate device for the same intended use and the same technological characteristics and if differences in technological characteristics do not raise different questions regarding safety and effectiveness.
The crucial part of the evaluation is a selection of predicate devices. A legally marketed device previously cleared through the 510(k) process is considered a predicate device. During the substantial equivalence determination, the intended use, the attributes in the labeling, and the technological characteristics and features of the device (dimensions, material, color, etc.), clinical and non-clinical data were reviewed to establish whether the data demonstrate substantial equivalence?
A significant change in the materials, design or other features of the device does not raise different questions of safety and effectiveness and that the device is as safe and effective as a legally marketed device. An appropriate supporting data should be provided in concern to the safety and efficacy of the device.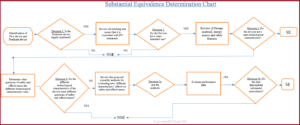 Substantial equivalence doesn't require the predicate device and the subjective device are identical rather it can be demonstrated through intended use, design, materials, performance, safety, effectiveness, labeling, biocompatibility, and other applicable characteristics. Substantial equivalence can be claimed to a pre-amendment or post amendment device that is legally marketed.
Article summited by Neethu Anto, Sr. Consultant, FDA Regulation (na@i3cglobal.com)
What is pre-amendments and post amendments device? And how effectively use a predicate device?